Picture Above: Community Volunteer, Mrs. Olayiwola Tawakaitu counseling client, Mrs. Ajasa Cecilia in the community.
In April 2022, 57-year-old Mr. Sekom Wasiu had been coughing for a year. He was tired of the cough but uncertain about what steps to take. He had lost a lot of weight and looked frail. One morning, after coughing all night, he sat wearily in his outdoor hut facing the road and coughing.
His assistance came from Community Volunteer with the USAID Tuberculosis Local Organizations Network (TB-LON 3) project. The Community Volunteer, Ms. Elizabeth Amos, was carrying out her routine community visits to sensitize and screen for tuberculosis when she met Mr. Sekom.
"She advised me to go to General Hospital Badagry for a tuberculosis test. If I had not gone to the hospital at that time, I would have died. I used to cough so loud in the night that by morning, my neighbours would come and advise me to go to the hospital. None of my children could stay in the room with me. In fact, I suspected my wife of poisoning me or that someone had charmed me. I kept planning to go to Cotonou, Benin Republic for treatment, but I did not have the money," Mr. Wasiu says.
Some days after the counsel by the Community Volunteer, he went for a free tuberculosis test at General Hospital Badagry. When he was confirmed as having tuberculosis, he began treatment immediately.
Elizabeth is still part of his treatment journey. Wasiu calls her whenever he has questions about his treatment. She also calls to counsel him on adherence as well as to urge him to go for hospital visits. Elizabeth still visits him regularly.  She is one of the 230 volunteers trained by the USAID TB-LON 3 project in Lagos State. The TB-LON 3 project is being implemented by the Institute of Human Virology Nigeria in Lagos, Ogun, Osun, and Oyo states in South-West Nigeria.
Elizabeth provides support for 22 children, 12 adolescents, and 12 adults. Her clients live in Seme, Ibereko, Atan and Imeke areas of Badagry. Other services she renders to children include, taking them in groups of three or four to the Infectious Diseases Hospital in Ojo, Lagos State for monthly routine checks. Ms. Amos also participates in school screening outreaches and traces contacts of people who have tuberculosis to link them up with screening and treatment.
"I am particularly concerned about children who have tuberculosis. I treat them like my siblings. Some of their parents feel so helpless and even cry when they discover that their children are infected with tuberculosis," she says.
12-year-old Joseph Kuton is one of Elizabeth's clients who has been diagnosed and is on treatment for drug-resistant tuberculosis. His mother receives hands-on mentoring to give Joseph the necessary support.
"I am comfortable with Elizabeth taking my son to the clinic every month. Before, Joseph was very thin. He could not play football like he used to. I was afraid but Elizabeth has guided us through his treatment. I am happy," Mrs. Kuton says.
Another Community Volunteer, Mrs. Olayiwola Tawakaitu, advocates for tuberculosis screening in community schools. She also conducts house-to-house visits and makes regular phone calls to follow up on her clients.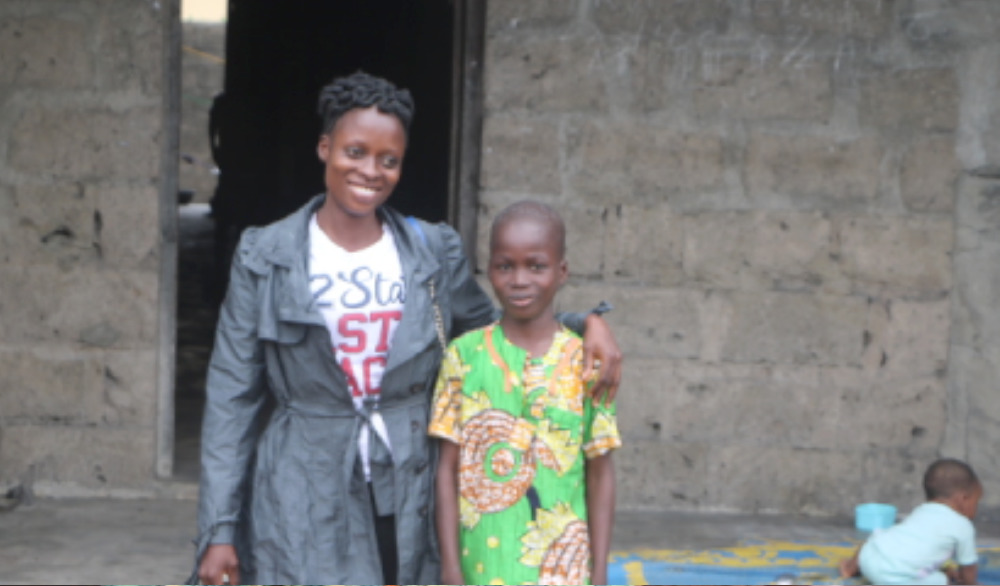 One of her clients, Mrs. Ajasa Cecelia, affirms that Mrs. Tawakalitu's persistence in following up with her made her start and adhere to her treatment regimen.
"Though I was coughing, I did not know that it was serious till mama (the Community Volunteer) came to check on me and gave me a sputum cup to cough into. When the test returned positive for tuberculosis, she kept following up with me to go to the hospital. I usually go to church after work, so it was hard for her to meet me at home. One day, she checked up on me up to six times. When my neighbours told me about her frequent visits, I went to see her and we went to the hospital together," Mrs. Ajasa says.
She adds that she also received support from the volunteer when she almost stopped treatment because of the side effect of weakness that she experienced when she started tuberculosis treatment. Mrs. Ajasa has completed her tuberculosis treatment and is feeling healthy.
USAID TB-LON 3 Community Mobilization Advisor, Dr. Abiola Alege says that so far, 34,678 students have been screened with 102 students being diagnosed with tuberculosis and linked to treatment through community services provided by the USAID TB-LON 3 project.
"The thrust of the project is to find missing tuberculosis cases. Given our poor health-seeking behavior, just a few people who are ill go to the hospital. If we are to find the missing tuberculosis cases, we have to go to the community. Our Community Volunteers use the WHO-certified four-symptom screening tool to ask questions in the community about tuberculosis. These symptoms are current cough, fever, weight loss, and night sweats. The volunteers are the foot soldiers who ask probing questions to find tuberculosis cases," she adds.