Figure Above: Maternity Home Owner, Mrs. Yaro taking record of a pregnant woman.
To increase access to prevention of mother-to-child transmission of HIV services by women in communities, Institute of Human Virology Nigeria (IHVN) has engaged traditional birth attendants and maternity homes to screen for HIV and provide referral services. More than 100 of them have begun providing these services in the Federal Capital Territory; Rivers, Nasarawa and Katsina States.

"Some women prefer to go to maternity homes in their neighborhoods to seek care during pregnancy and delivery than go to the hospital. Taking HIV services to them at these places ensures that we leave no one behind," says IHVN Program Manager Maternal Neonatal Child Health, Mrs Grace Adamu.
Mrs. Sarah Peter, who is a hair dresser and lives in Tasha community in Gwagwa, Abuja, delivered her fourth child in the maternity home a stone throw from her house. She explains that it is more convenient to access antenatal services with the community health extension worker running the home. For fear of stigma, 30-year-old Sarah living with HIV, takes a 41-kilometer journey to the University of Abuja Teaching Hospital, Gwagwalada for HIV care and treatment.
The fear of being identified as HIV positive by her community members was allayed when her confidentiality was kept at the maternity home.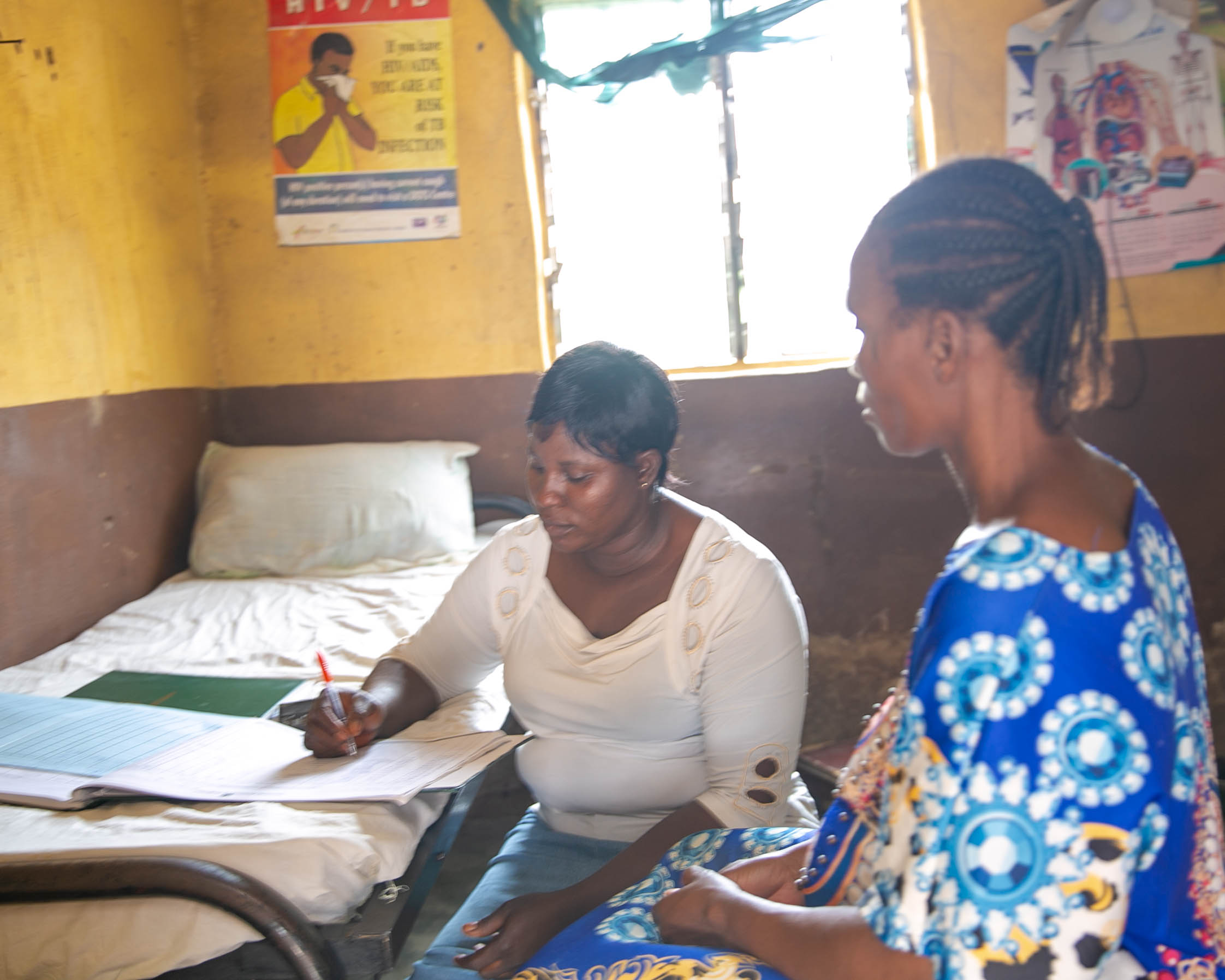 "She (the community health extension worker) attended to me very well. At first, I did not tell her my status till the test was conducted. Then, I assured her that I am already on treatment. I prefer to come here because even when I don't have money, she is considerate. My baby is two weeks old and I am yet to complete payment for the delivery here," Sarah says.
Owner of Maternity Home, Mrs Linda Yaro, though trained as a Community Health Extension Worker, also received training when engaged by IHVN to provide HIV screening and referral services.
"I was given a register to keep records of the HIV positive women who come here. I have also been guided to refer them to the nearest health center when they need advanced care. The Institute provides the HIV screening kits for free so I do not bill the women for the test. I make sure I do a HIV test even if women come for emergency services at night.
Since IHVN started working with me in December 2021, I have had two pregnant women with HIV. I call the IHVN contact person when I need further information on how to guide them or provide referral services. I really appreciate working with the  Institute. It gives me some boldness and assurance that I can receive guidance when needed," she says.
IHVN FCT Senior Program Officer MNCH, Mrs. Esther Dunia explains that all maternity homes or traditional birth attendants are linked to nearby supported health facilities which provide comprehensive HIV services.
"These traditional birth attendants are in the community and know the women around them who are pregnant. It is easier for them to reach these women and link them with health facilities for care. The traditional birth attendants share weekly reports with these facilities and receive HIV test kits from them. When a pregnant woman living with HIV is linked to a health care facility, we reach out to her family members who might need a HIV test also."
Mrs Yaro not only screens and refers clients to hospitals, she gives drug refills to mothers and their babies. She is monitoring the health of both Sarah and her child. Sarah's baby is due for an early infant diagnosis test at six weeks and has been referred to the hospital for this.
For women who are not living with HIV, Mrs Yaro provides counseling on HIV prevention not just before and after the test, but also during routine health talks on antenatal days.
Mrs Blessing Cornelius, another client at the maternity home is pregnant and goes every three weeks for antenatal talks at the home.
"I delivered my second child here. This is my third baby. I like the way she cares for me and laughs with me. When I came, she conducted pregnancy test, HIV test and other tests like for typhoid and malaria," she says.
As at July, 2022, this community program, has reached more than 200 women living with HIV in the four states where we are implementing it.
Mrs Grace Adamu adds that, "some of the traditional birth attendants are trained health workers while some have learned this as a skill passed from their mothers to them. IHVN is building their capacity in universal precautions for the safety of health care provider, mother and child. There are also plans to provide continuous training," Mrs Adamu says.
In the Federal Capital Territory, plans are under way to have an organized network of the traditional birth attendants to coordinate their activities and improve access to HIV services. IHVN is collaborating with the FCT HIV AIDS Control Program (FASCP) to achieve this.